I first met Susan's dining room furniture when we visited Fortress Fine Arts Storage in Boston, known to I-93 travelers as the building with the inflated gigantic padlock. I was in awe of the central elevator platform, which was large enough for a car, and the mystery of what valuables were within each surrounding compartment. I imagined a spy movie chase scene, the elevator moving a Lamborghini down as two gangs of masked bad guys acrobatically jumped on and off passing floors, grabbing gems and vying to drive the sleek sports car screeching onto the street.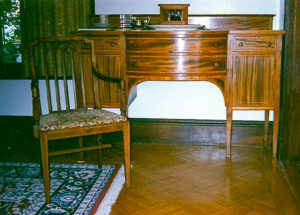 Once inside Susan's quite tame unit, we removed the plastic covering and out came the dark reddish-brown mahogany, Georgian-style table, six chairs, two sideboards, and glass cabinet that comprised Susan's "antique dining room furniture." Manufactured in the early 1910s, a shellac sheen shows off the wood grain. The features of each piece, like the tapered chair stiles and legs, the sideboard drawer fronts, and the round table top, are outlined with bands of light-colored "satinwood" (probably birch). To set off the mahogany from the satinwood, each band of satinwood is etched with two lines of ebony. All in all, the set paints a picture of stately elegance.
Little did I know then, however, that errant napkin threads or clothing could snag and eventually pull off pieces of those satinwood bands. Such pieces would join their kin in an envelope already in one of the sideboards, marked "D.R. FURNITURE," in Susan's chicken-scratch all-caps. I would soon learn that none of the furniture was rock solid; when an elbow leaned too hard, a body shifted suddenly, or a cabinet door fully opened, the furniture groaned. I didn't know that underlying elegance was infirmity.