May 2016
Twenty-seven years ago today, we pulled into the gravel parking lot of Lisa's one-room "studio" apartment in Susan's white four-door Jeep Cherokee, "Butch Running Truck." Ostensibly, my friend Lisa was making the two of us a treat for my birthday. We climbed steep outdoor stairs and knocked on the glass door.
"Surprise!" Lisa and several of my other graduate school friends yelled.
"Eeek!" I countered.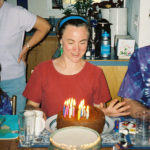 We all sat on the floor talking, and then, as if by magic, out came The Cake, with twenty-eight candles on top (including one to grow on). When we were young, my sisters and I had that chocolate cake for every birthday. My mom had grown up not having to wait for birthdays to eat it: my grandmother had baked the two-layer, round, chocolate cake with chocolate frosting every week for my grandfather. The frosting had a bit of coffee in it, taking a little of the edge off its powdered sugar base. I usually asked for raspberry jam in between the layers, which, of course, my mom had included in her instructions to Susan. Yes, less than a year after having become "lovers" (as we referred to ourselves back then) and without having had any previous introduction (because while I was "out" to my parents, I wasn't as far out as to talk about my "private" life), Susan had called my mom to get the recipe. She had smuggled the cake to Lisa's earlier that day so that I wouldn't catch even a glimpse of it beforehand.
That was my first of twenty-three birthdays with Susan, who made every single one of them special. I don't mean the syrupy-sweet, overused "on your special day" kind of "special." She tailor-made distinctive celebrations and gifts for me–and for many others. My sister and her family often came to our house for their August birthdays so that we could sit, surrounded by streamers and with party-hat elastic biting into our chins, and eat shish-kabab Susan grilled with her "Yummy Yummy Marinade."