So much loss.
Every day. Every day: she still isn't here.
It occurs to me I should take a picture of her crocuses to show her…later. I'll show her later. It gets later and later. She still isn't here.
I try to do as we mourners are told: "live in the moment." In that "now," I forget sometimes that our life together even existed. Then the abyss that is my loss of our life re-veals itself. The child's voice in my heart asks, "why can't I have her back. Can't she come back? Please?"

I stumble, weeping. The pain courses through me. I lean against it, willing the grief to vanish, yet worrying that if it does, we will vanish too. I've lost her: I can't bear to lose what we were, too.
Long moments pass. I stand up. Though death do us part, I live on. Even though I feel
so
much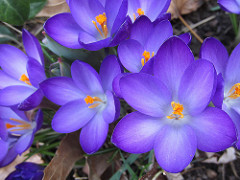 loss.
So much loss by Kim Brookes is licensed under a Creative Commons Attribution-NonCommercial-NoDerivatives 4.0 International License. Permissions beyond the scope of this license may be available at Permission to Use.